Laatste nieuws
What topics do consumers contact companies with?
A customer service overview
In the world of customer service, a familiar saying resounds:  "There is no such thing as stupid questions."
This sentence, often said sincerely, emphasizes the importance of encouraging individuals to engage with curiosity. It promotes the idea that all questions hold value, however obvious or simple the answer may seem to be. After all, asking questions serves as a tool for learning, understanding, and, ultimately, problem-solving. It encourages us not to accept everything at face value and, instead, to seek explanation and clarity when we are uncertain.
The following article elaborates on the most common reasons behind customer inquiries in relation to customer service, while presenting data sourced through the research conducted by Spryng in collaboration with Commify.
Fostering curiosity and efficiency in customer service
However, the acceptance of this principle is not always present in practice, especially among business owners and customer service representatives. Sometimes, they may have trouble answering all the questions flooding their departments, thus they have to prioritize certain ones and treat some as if they were less important. They may argue that while questions are undoubtedly essential, not all queries are of equal importance. 
Some customers, by asking relatively straightforward questions with readily available answers, which could have been effortlessly resolved with a quick internet search or a glance at the organization's readily accessible guides or resources, take valuable time and resources away from issues that should be prioritized. 
In the world of customer service, 2023 introduces a plethora of new complex challenges. Consumers today are more demanding than ever before, driven by the expectation of immediate responses and swift solutions to their concerns. In this age of heightened expectations, organizations must find ways to comply with this ever-increasing demand for quick resolutions while also ensuring that no customer is left underserved. More information about customer-to-business communication frequency can be found in our previous article.
Thus, the question arises: How can organizations ease mounting pressure on specific departments, specifically customer service, to ensure all concerns are addressed and all questions are answered? Good customer service is crucial in the world of business, since frequent and positive interactions with skilled customer service professionals promotes customer loyalty. Investigating and aiming to understand the root causes of customer inquiries may be the answer.
Unfamiliarity with accessing information that's presented or doubts about its accuracy are often the main motivation behind customers reaching out to businesses, rather than the lack of information, study says.
Consequently, they tend to communicate with the organization directly for reliable and trustworthy guidance. Recognizing this as the primary motivation can encourage  organizations to optimize their customer service processes by ensuring the information on the website is detailed, legitimate, easy to comprehend and accessible to all.
---
Are you interested in learning more about communication needs and trends? The full research report will be downloadable for free soon.
---
Consumer preferences in customer-company interaction: Top 10 contact reasons
According to our research, the 3 most common motivations behind contacting customer service are queries and updates on deliveries (30.6%), orders  (24.4%) and refunds (21.6%). 
Consumers often seek information regarding the status of their deliveries or updates on expected delivery times, as well as inquiries related to their order status, or changes to their orders. In the third spot, with 21.6% of the individuals who participated in our survey, are queries related to refunds and exchanges. Customers often seek clarification on return policies or request updates on the status of their refund requests.
Other frequently recurring reasons behind contacting customer service are billing or payment issues (21.4%) such as inquiries regarding billing discrepancies, failed payments, or questions about charges. Seeking more information (20.8%) about products or services (oftentimes questions about privacy) is a fairly common reason behind reaching out for support from the organization. This underscores the importance of having comprehensive and easily accessible information available to potential customers. A smaller, but still notable, 7.2% of interactions revolve around problems with websites or mobile apps. Ensuring the usability and functionality of digital platforms is essential in addressing these concerns and would save significant amounts of time, effort and resources for the organization.
Inquiring about opening hours is a common reason behind contacting customer support, with 10.4% of consumers contacting companies to obtain information about their operating hours. Providing clear and readily available business hours can improve the customer experience.
10 most common reasons to contact customer support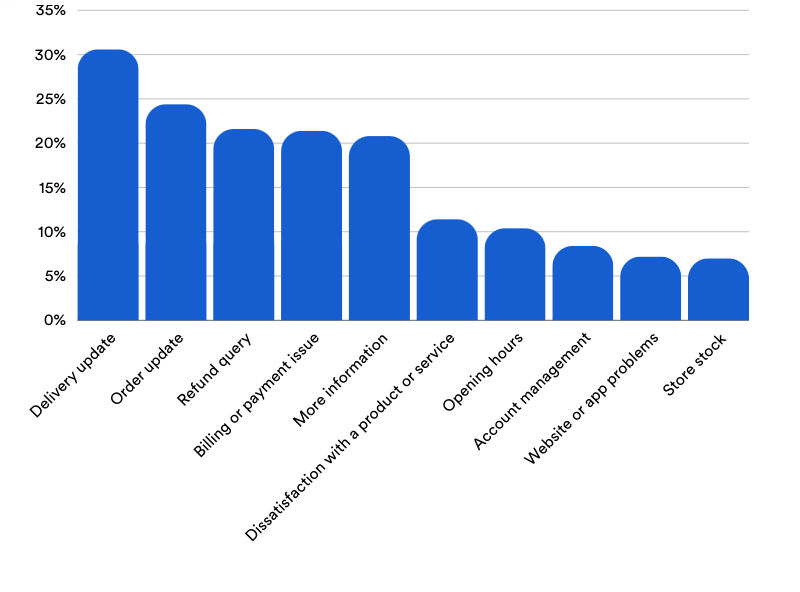 While the amount of customers that get in contact with organizations to express dissatisfaction with a product or service (11.4%) is significantly less than the previously mentioned reasons, it is still a pivotal aspect of customer feedback, and should always be met with receptiveness to constructive criticism and willingness to help improving the customers' experience.
Account management(8.4%) and store stock queries (7%) are on the bottom tier of the list, but that doesn't mean they are any less important. Account management questions refer to issues related to account access, profile updates, or membership inquiries.
Finally, 7% of consumers contact companies to ask questions about product availability in physical stores. Timely updates on stock levels can help streamline this aspect of customer service.
Grasping the prevalence of the most common reasons provides companies with valuable insights into consumer expectations, and relevant feedback on how they can optimize their websites to lower the demand for customer support. By addressing these concerns effectively and efficiently, businesses can enhance their customer relationships and foster brand loyalty.
---
Are you interested in learning more about communication needs and trends? The full research report will be downloadable for free soon.
---
Optimizing consumer-to-business communications: A channel perspective
Is the omnichannel approach the most suitable one?
 Communication channels play a pivotal role in shaping customer experiences. Our study dives into consumer preferences and sheds light on their preferred channels for contacting businesses, distinct from how they wish to be reached proactively. This study's findings mirror global trends observed across surveyed countries.According to the surveyed consumers, the preferred channel for initiating contact with companies is email. It emerges as the foremost choice, underscoring the enduring popularity of electronic mail as a reliable means of communication. However, this may be because of the longevity of email's presence in comparison with other forms of contact. Following closely are the conventional methods of phone calls, and emerging in popularity is the messaging giant, WhatsApp.
"Omnichannel a customer-centric approach in which all channels are integrated so the customer has a unified and consistent experience whether they are at a physical store, using an app, or on a website" ("What Is Omnichannel Marketing?," 2022)
Using an omnichannel approach in this case would mean using several customer service channels through which the customer service team can communicate with both new and existing customers.
Live Chat and SMS are emerging in popularity. Beyond the classics, live chat and SMS have steadily gained favor among consumers. Live chat, with its real-time convenience, is increasingly utilized for initiating conversations with businesses. Meanwhile, the humble SMS retains its significance, proving to be a valuable tool in consumer-to-business communication.
The study also emphasizes that proactive communication strategies lift the burden that is weighing heavily on the service teams. Techniques such as delivery notifications, continuously updated websites, and appointment reminders can enhance customer service and reduce pressure on departments dealing with inquiries.It is crucial for organizations to choose the appropriate mix of channels to ensure their proactive messages resonate with consumers. The study suggests that appointment reminders find the most success when delivered via email and SMS, with SMS enjoying an impressive open rate of 98%, far surpassing email's 28%. The key lies in crafting the ideal channel mix, a process that can be fine-tuned through constant testing and innovation.
Another aspect of reducing the pressure on service departments involves reorganizing  communication flows to address common issues. By updating communication practices around frequently encountered problems, companies can significantly lighten the load on their service teams. This approach, informed by real-time data and consumer preferences, paves the way for a more efficient and customer-centric business model.
In conclusion, understanding and adapting to consumers' preferred communication channels is vital for businesses seeking to provide exceptional customer service while minimizing pressure on customer experience teams.
Sources: 
What is omnichannel marketing? (2022). McKinsey & Company. 
https://www.mckinsey.com/featured-insights/mckinsey-explainers/what-is-omnichannel-marketing