Laatste nieuws
The global consumer connection: exploring the most contacted sectors worldwide
In an age defined by technological developments and global shifts, the dynamics of communication between consumers and business interactions are transforming rapidly and significantly. To have an elaborate view on how the landscape of business communication is changing, Spryng and Commify conducted thorough research interviewing thousands of consumers across the globe, to answer the question: Which sectors are most frequently contacted by consumers?
Evolving consumer trends: communication dynamics across key sectors
The retail sector, an endless touchpoint for consumers, is at the center of this transformation. All around the globe we are witnessing an increase in online shopping post-pandemic, consumers are turning to e-commerce platforms more and more frequently for their purchasing needs. Predictions suggest that this trend is set to continue according to industry experts (Baluch, 2023). Offline-only retailers, including supermarkets, jewelers, and pet shops, are noticing the effects of this digital revolution as well. In Europe, we even see the emergence of a new sector of online-only supermarkets (such as Dutch Picnic and French Hoora) and flash delivery companies (such as Getir).
As a consequence of this paradigm shift there is a heightened need for contact between consumers and retailers. Online orders, executed by the digital realm, inherently demand more communication flows, which resulted in retailers ascending to one of the most contacted sectors across the globe. Beyond the European Union, the UK claims retail as the most contacted sector, with an astonishing 44.3% of, followed closely by Australia at 35.8%, and the United States at 32.6%.
The percentage of consumers that
contact retailers most frequently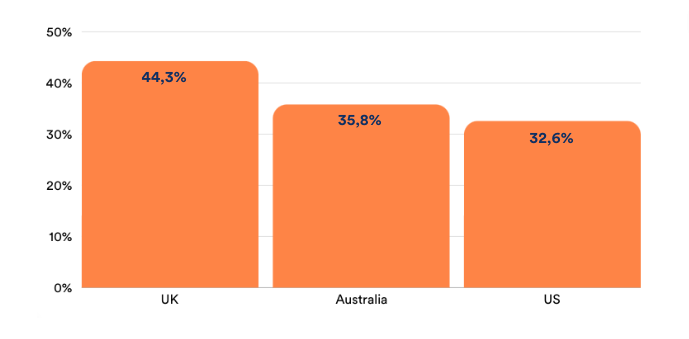 The second most contacted sector is telecommunication, this reflects on the fact that our mobile phones play an increasingly essential role in our daily lives. Our phones have become indispensable tools for reaching out to businesses through several different means of media. Consumers may communicate with businesses through phone calls, text messages (SMS), and via apps such as WhatsApp and email.
---
Are you interested in learning more about communication needs and trends? The full research report will be downloadable for free soon.
---
However, the evolving landscape of consumer needs isn't solely influenced by technology, but other factors such as rising interest rates, political issues, and its consequences: escalating energy prices, which resulted in a rise in consumer demand for contact with financial institutions and utility providers. The financial sector emerges as the most contacted sector in Belgium, garnering a 25% share. This trend is mirrored across multiple countries, where financial institutions rank as the second most contacted sector. For instance, in the Netherlands (22.6%), Germany (27.2%), France (27%), Spain (27%), Australia (25.4%), and the USA (24.2%), consumers seek frequent interactions with financial entities. 

The percentage of consumers that
contact financial entities most frequently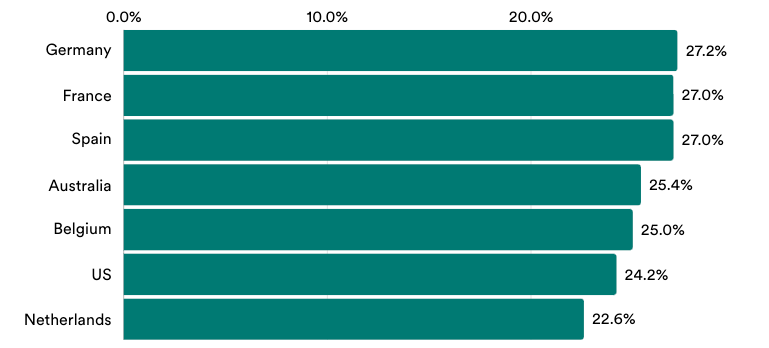 Though the landscape is dominated by tech and finance, food companies claim the spotlight as the third most contacted sector in Spain and Italy, outshining traditional sectors such as the public sector and healthcare across all countries surveyed. This implies that the food industry is stepping into a role of increased significance in consumer-business communications. 
Which types of business have you needed to contact the most often in the past 12-month period (the full year 2022)?
The following graph represents how the respondents answered the previous question. The percentages stand for the percentage of respondents who needed to contact a specific sector in the past 12 months.
12-month sector contact necessity rate (%)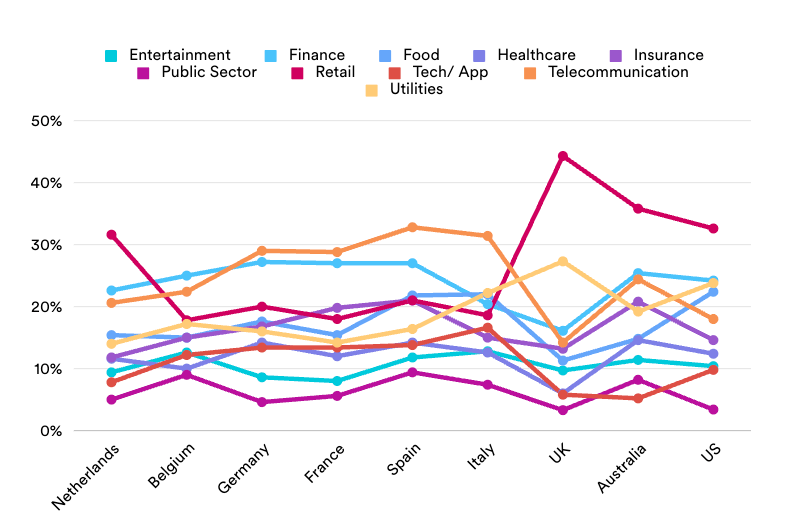 Tech companies outpace local authorities in contact frequency
The research Spryng and Commify have conducted has uncovered entrancing results in the field of digital connectivity. Citizens tend to contact technology companies and mobile apps far more frequently than their local public and healthcare authorities. This intriguing discovery sheds light on the evolving dynamics of communication in the digital age.
The research results paint a striking picture of how citizens tend to engage with institutions in their daily lives. With the digital realm being increasingly more important, and a crucial aspect in modern society, it is no surprise that individuals are reaching out to tech companies and mobile applications more regularly than they are to public healthcare organizations. 
After all, smartphones have become indispensable for nearly all of our daily activities, the act of downloading an app has become almost as routine as breathing. 
---
Are you interested in learning more about communication needs and trends? The full research report will be downloadable for free soon.
---
If we take a closer look at these findings, we may make a fascinating observation: traditional and government-related entities have skillfully adapted to the changing landscape of communication. To maintain their relevance, they had to effectively manage their information operations in an increasingly digital environment and make it accessible to the public. 
This demonstrates that for businesses and organizations across all sectors, staying competitive in the digital realm is no longer a luxury but a necessity. This can be achieved through frequent and efficient communication with the consumer. More inforomation can be found on the topic of communication between businesses and customers in our most recent research article "Global research unveils: how often do consumers contact businesses?".
Although we see many differences across the surveyed countries, we also identify findings that are generalizable across borders. It reminds us that the digital evolution wave is sweeping across all industries, encouraging companies with little to no technological advancements to innovate and embrace digital communication strategies. This is beneficial to both the consumer and the business, since it eases and aids the communication process.
In conclusion, the eminence of technology companies and apps as primary points of contact for consumers all around the globe underestimates the profound shift in communication patterns. It underscores the pressing need for organizations, regardless of their sector, to prioritize digital communication strategies as a means of remaining relevant and responsive to the demands of an increasingly interconnected world. 
---
External sources:
Baluch, A. (2023, February 8). 38 E-Commerce Statistics Of 2023. Forbes Advisor. https://www.forbes.com/advisor/business/ecommerce-statistics/